Gary 'Smiler' Turner
Hi, I'm Gary 'Smiler' Turner, and welcome to my homepage. Here you can find out much more about me and what I can do for you.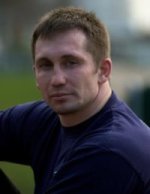 So who am I?
As a sportsman I have career highlights of being World Champion 13x over three different sports. I am a Hypnotist and Hypnotherapist, a Personal Trainer, and a Performance Expert. I am a writer with my book 'No Worries' available via Amazon. I am an experienced speaker and deliver workshops, seminars, talks and presentations on a wide range of subjects. I have appeared on television around the world in many roles and have been a Fight Stunt Performer in the Film Industry. I have been very fortunate to have had some amazing life experiences.
In my personal life I am married and live in a lovely North Hampshire village with our two huskies, Harley and Max. Although I am a retired professional sportsman I still train in my chosen sports. My huskies require lots of exercise and every day I canicross, which is cross country running with trained dogs. We have completed mountain ultra-marathons together. I love sport and personal challenges as well as adrenaline activities. I have completed marathons, 24hr mountain bike races, enjoyed stunt riding with horses (jousting, lance work, bareback), white water rafting, and have even tumbled out of a plane with some of the famed Red Devils.
My life has been about achieving performance. I have been driven to succeed at everything I do and this has led to a lifelong study of exactly what is required to be a top performer – from the physical and mental aspects through to the technical and strategic. These principles I apply to my private and corporate clients, and of course myself.
I continually study in order to ensure I am best placed to help my clients. I study psychology, sports psychology, neuroscience, linguistics, nutrition, physiology, and the works of my leading peers.
Should you wish to read some of my thoughts I operate a blog here: garysmilerturner.blogspot.co.uk I also write blogs and participate at The Talk Health Partnership which is in partnership with NHS Choices: www.talkhealthpartnership.com
(This is me and my huskies enjoying the XNRG Ultramarathon in 2014)

What can I do for you?
I help many people in my Hypnotherapy practice. I use hypnosis and other psychological interventions to help my clients who visit me with a wide range of issues. I clear up the bad, make good stuff better, and help my clients with knowledge and more helpful strategies of thinking to help them achieve what they want from our sessions.
As a Performance Expert I can help whether you are an individual, or require my services for a team or business. I fully understand how to achieve performance from both the technical side and the application, and know how to help you achieve it too. I deliver through individual sessions, workshops, seminars and various talking presentations.
As a Personal Trainer and Sportsman I can help you reach your goals. Whilst the majority of my clients come to train in fight sports I can help you achieve any level of health and fitness, whatever your goals. I regularly give workshops and seminars throughout the country.
My first book has been released - No Worries - helping people get rid of their anxiety. It can be purchased through Amazon in paperback and Kindle.

I am an experienced speaker and am available to deliver talks and presentations on a wide range of topics.
How to contact me?
Please feel free to contact me, especially if you think I am able to help with something! My email is gary@garyturner.co.uk and my phone number is 07879 624646 (UK working hours only please!)