Kickboxing Class
Activities Room, Hart Leisure Centre, Hitches Lane, Fleet, Hampshire, GU51 5HS Times: Monday (not Bank Holidays) 6.30 – 8pm
Costs: £7/Session
Abilities: 1st Timers to World Champion

Do you want to learn kickboxing from a 13x World Champion? Learn techniques and applications that work under competition? Do you want to not just look good, but actually be good too? And have fun during the process?

I teach kickboxing based on the K-1 Rules system involving punches, kicks and knees in a full contact format. As a professional athlete I have fought against and trained with the best in the world, and bring everything I have learned to the class. With over 34years in martial sports I concentrate on what works, and not what looks good.

Classes are fun and fast paced but structured so that you work at the pace that's right for you. Techniques and combinations are taught effectively and with the end goal in mind – the competitive application. The small details within each component part of a technique are not forgotten. With my experience as a professional athlete and with my psychological skills training I don't just teach the physical side of fighting, but also the mental approach that you need to have to be the best you can be.

The classes are a mixture of shadow boxing, technical interaction involving partner work and pads, body boxing, and sparring (should you so wish). Clients are encouraged to help train each other and are taught what elements to look for during practice, therefore everyone becomes an instructor, helping the class to move forward together as one, whatever your level. Minimum equipment is a set of boxing gloves, preferably 14oz or 16oz. Shin guards are an advantage, and to get the most out of the sessions you will need a gum shield, and a head guard is strongly recommended although sparring is deliberately kept very light and controlled at this class.

So if you want to enjoy yourself while being trained to the highest level in kickboxing, come along to the classes and join in the fun and good work.

Please just turn up and join in! Though if you have any questions please contact me via:
Email: gary@garyturner.co.uk
Telephone: 07879 624646
Location: Church Crookham, Hampshire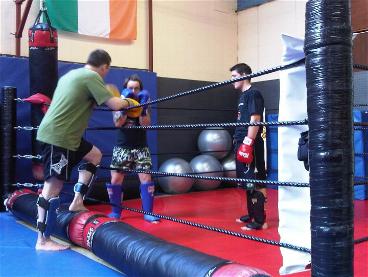 Coaching as a guest instructor